On Wednesday, April 20, Freestone Medical Center took the time to celebrate some of its exemplary and most dedicated employees. The hospital hosted a catered luncheon when announcing and celebrating its 2021 Employee of the Year, 2022 First Quarter Employees (Clinic and Hospital), and 2021 Employee Service Award winners. , The Texas Cajun, was brought in to feed the masses with over 100 employees being served crawfish, shrimp, sausage, corn and potatoes!
2021 was the inaugural year of the employee recognition program. Thus, the April 20 ceremony saw the organization crown its very first Employee of the Year 2021! After being selected as a fourth quarter 2021 hospital employee, LaCharles Bass found himself among a very select group of individuals. Employees were given the opportunity to vote for their choice of employee of the year via an anonymous ballot and Mr. Bass was selected to be rewarded for his extremely positive attitude, willingness to always be helpful and the way he seeks always encouraging and edifying his colleagues. His response was simply, "I can't believe I'm being recognized for doing my job." It is this humble spirit that makes him the employee every organization needs, ready to do whatever it takes for the success of the organization and never needing to see his name in the spotlight.
Being selected as Employee of the Year has its advantages! Mr. Bass received a commemorative plaque, a premium designated parking spot of his choice, gift certificates of varying value, an extra week of PTO and some serious bragging rights until this time of year. next ! Employees of the Ward (EOQ), one from the clinics and one from the hospital, were also announced at the ceremony. EOQs are selected quarterly and announced to celebrate their demonstrated actions and behaviors that best display the values ​​of the organization: integrity, leadership, stewardship and teamwork. They are nominated by their peers and chosen by a committee of employees to receive a commemorative plaque and a gift certificate.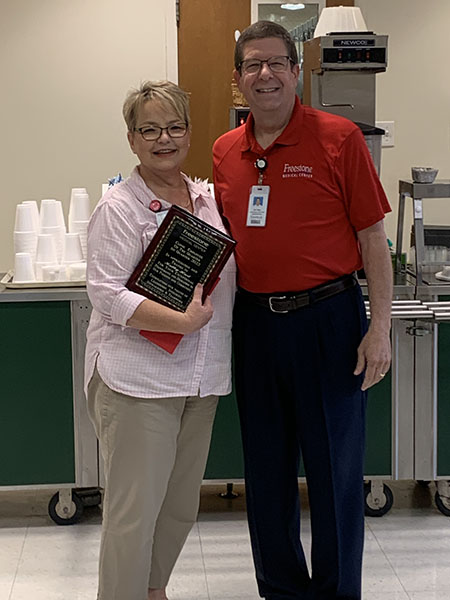 The first quarter 2022 clinic employee is Kathy Hart. Ms Hart is a receptionist at the Fairfield Clinic and is described as passionate about her family, her church and her job, and a strong supporter of small business. Her colleagues sing her praises as an accomplished team player, ready to help others, always respectful, honest and with a positive attitude. "We need five more like her," they say. Married to the love of her life for 42 years and deeply rooted in the community, Ms. Hart has "shown herself to be dedicated to this establishment and to its community".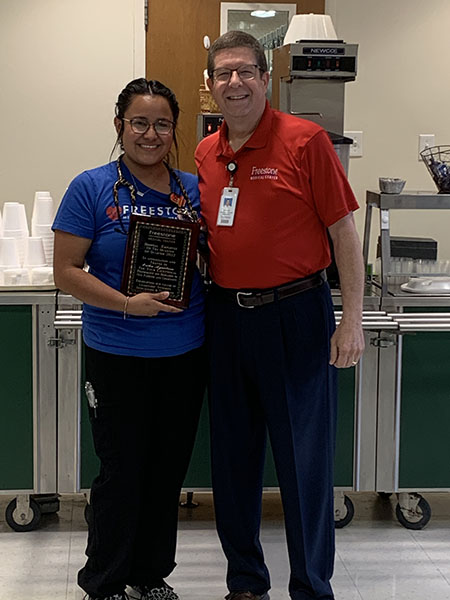 The neighborhood's first quarter 2022 hospital employee is Erika Aguilera. Ms. Aguilera is LVN in the Med/Surg inpatient unit of the hospital. Born and raised in Teague, Texas, she has worked at the facility since graduating from nursing school in 2017. Her supervisor said she "has an impressive work ethic, that she is compassionate and a patient advocate who is always willing to help or work." extra shifts. In addition to being the resident translator, Ms. Fix-It, and tech guru, Ms. Aguilera is a devoted LVN and mother. When asked, her supervisor Aimee Posey said, "She is such an asset to this hospital and she deserves this award. Erika will never let you down." With that in mind, it's easy to see why she was selected for Neighborhood Employee honors.
Only employees who have been selected as Employees of the Quarter can be elected Employee of the Year. Having achieved EOQ status, Ms. Hart and Ms. Aguilera will now be part of a pool of 8 candidates who will be selected throughout the year to compete for the coveted distinction of being voted Employee of the Year 2022!
Employee service awards are given after 2 years of employment, then after 5 years, and every 5 years thereafter, to recognize an employee's longevity and seniority within the organization. Employee service awards consist of service pins and a selection of stage-specific branded items that employees at each level are allowed to choose from.
The 2021 service award recipients are:
–2021 The two-year service award recipients were Rhonda Craig, Kayla Farmer, Katherine Gist, Mackenzie Mullen, Jake Pickens, Irma Ray, Rose Ross and Amber Stacks.
–2021 The five-year service award recipients are Steve McCarty, Susan Myers, Brady Self, LaQueila Simpson and Theresa Thurman.
–2021 The recipients of the twenty (or more) years of service award are Amy Barlow, Lisa Horton, Misty Hughes and Kim LeNoir.